Top 4 Winter Dry Flies For Fly Fishing
Nick DelVecchio
Winter months are often spent staring at strike indicators leading tiny nymphs in an effort to muscle up trout from the depths of icy streams.
While there's nothing wrong with nymphing through the entire season, there's something about watching trout come up and sip dry flies that is exhilarating on another level. The glamour months of May, June, and July make it easy to fall in love with dry fly fishing, but it takes a special type of angler to pull it off in winter. The secret often starts with choosing the right fly!

Griffins Gnat
Even though we're dry fly fishing, it's still important to focus on bugs trout are keying on. In winter that means midges, midges, and more midges. The griffins gnat is a quintessential pattern that's well-known by anglers throughout the country, and should accompany any trout fly fisher heading out in winter.

---
More Articles On Winter Fly Fishing
---
Parachute Adams
Is there ever a time when the adams shouldn't be in our fly box? When this fly comes in sizes #20-#24 it can perfectly imitate midges that hatch like clockwork in winter. The great thing about the adams is the parachute allows it ride high enough to target feeding trout in faster water when other flies would be sunk the minute they hit the riffles.

Parachute BWO
If dry fly fishing is what you're after during the cold of winter, be sure to carry some BWO imitations. While there might be sporadic hatches of other mayflies, the blue wing is the most consistent of the bunch. Cloudy days that are a little warmer tend to be prime opportunities to catch the hatch and find plenty of trout feeding happily on the surface.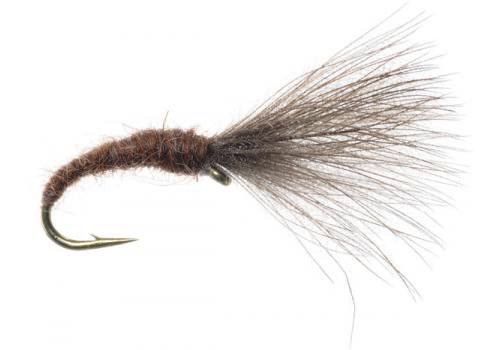 Mole Fly
The mole fly is fantastic for the way it rides in the water. When fished by itself, the fly will sit almost straight up and down with the body of the fly down under the film. If an olive variation is used this can be a great imitation of the BWOs that often hatch throughout winter.
The joy of watching a trout eat a dry fly in winter depends on proper fly choice. By carrying these four dry patterns in your fly box you'll ensure that success is soon to follow when the weather is cold and everyone else around you is busy staring at indicators!